ROI-Driven SEO Agency in Ohio
Our goal is to get you ranking on the first page of Google.
Our Columbus SEO company gets it. You want to rank on the first page of Google. You're sick of competitors outranking your business. You know how profitable SEO can be. Let our team of experts help unlock your potential. The Media Captain specializes in Search Engine Optimization and helps businesses increase their visibility on Google, leading to more website traffic, sales and leads. Whether the focus is on local SEO, Google My Business, technical SEO, link building, or content, we can help.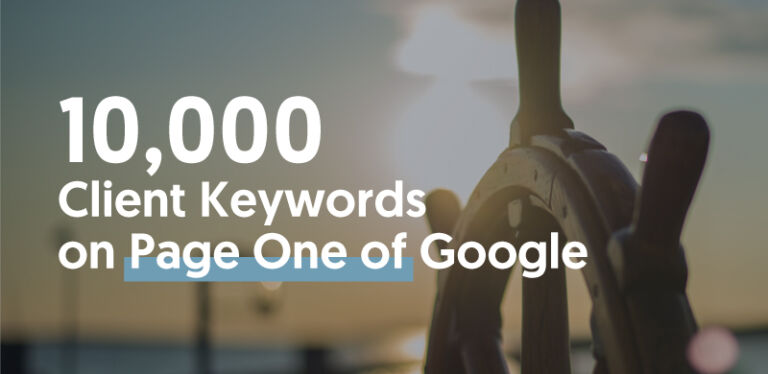 SEO Success Stories
Learn more about how our SEO services positively impacted our clients' bottom line.
100's of KW's
Rank in Top 10 on Google
322%
Lift in organic traffic
The Media Captain was responsible for lifting a Google Penalty for SafeAuto. We disavowed millions of low-quality backlinks while simultaneously focusing on improving content quality. This resulted in a multi-million-dollar positive impact to their bottom line as their keyword rankings returned to top placement once the penalty was revoked.
123%
Increase in Website Traffic
Involving our SEO team during the web design process paid dividends for The Waterworks. Upon launching their site, The Waterworks saw a drastic uptick in organic visibility as they started ranking for their service specific keywords, including Columbus Plumbing Company, one of their most coveted keywords. This resulted in more website traffic and leads.
98%
Community Occupancy Rate
10X 
Increase in Website Traffic
The Media Captain handles the SEO for Schottenstein Real Estate Group's portfolio of properties. There is a strong local optimization component for each community. We focus on optimizing Google My Business pages and on-site optimization. Our work over the past decade has resulted in record occupancy rate and expansion for SRE Group.
Happy SEO Clients
How our SEO Services Transformed Businesses
Melissa Hornik
Kurgis Law Firm
READ THE REVIEW ›
"The Media Captain helped us rank at the top of Google for some of the most competitive personal injury keywords."
Lauren Bateman
LB Music
READ THE REVIEW ›
"We rank at the Top of page 1 of Google for all important keywords for each location, thanks to The Media Captain. They're the best we've ever worked with."
Lance Marz
PSE
READ THE REVIEW ›
"Our SEO has never been stronger! With a company such as our own, licensed throughout the United States and in five Canadian provinces - we need as much reach as possible - and The Media Captain helps us deliver those results, allowing us to land more business and create new clients - everywhere!"
Our SEO Services that

Drive Results
We take the time to understand your business which will dictate our SEO strategy. We have high level thinkers on our team that will align our deliverables with your business objectives. The most important part of SEO is the upfront strategy. In developing strategies for hundreds of clients, we know how to prioritize high impact vs. low impact deliverables. When it comes to SEO, if you have the wrong in-house person or agency, it could set you back years. We pride ourselves on the ability to come up with a great strategy and having the support in place for implementation, tracking, and monitoring.
The upfront strategy is one of the most important components of a successful SEO campaign. This is where we analyze your site and map out a prioritized list of SEO deliverables.
We know how important expertise, experience, authoritativeness, and trust are for Google's algorithm. We take the time to interview our clients. We also have a team of writers to create superb content.
We come up with strategies for your business on how you can acquire more backlinks. From blogging for links and utilizing HARO to PR tactics, we cover all the basis to enhance your authority.
The 3-Pack results get 44% of clicks on Google's resutls page. Local businesses must rank in the local pack to get maximum local exposure on Google. Our GMB experts can help with your optimization.
From page load speed time and fixing broken internal links to enhancing the look and feel of a page, our in-house technical SEO team can improve issues with your site, both technically and aesthetically.
We have extensive recovery with Google Penalties. We can help detect and fix issues holding your site from ranking from its true potential.
SEO SUPPORT
FULL-SERVICE Columbus SEO Agency
Since we're a full-service agency, we handle all elements of SEO. Gone are the days of content enhancement being the most crucial element to outrank competitors. Google now looks at the user experience and design of your site. They want expert-written content that adds value to a site. They seek technical elements of your site to be firing on all cylinders. Below is the support you can expect when working with our Columbus SEO company.
SEO Timeline & Process
Below is what you can expect with our SEO process after signing a contract with The Media Captain. This includes our onboarding process, discovery, and when you should start seeing results.
Want to Improve Your SEO?

Contact Us!
Contact The Media Captain to speak with our team of marketing and web design experts. We look forward to learning more about your business while guiding you in the right direction on a web marketing strategy.