The results we deliver for our clients wouldn't be possible without the amazing team we have in place. There are two main divisions within our agency, one for digital marketing and the other for web development and design. This allows us to serve as a one-stop-shop for our clients. We also offer PR services to businesses that need support with press and exposure.
The synergy that exists amongst the digital and development team is truly unique and is something that's recognized and utilized by our clients. It allows for our digital marketing campaigns to consist of great technicality and tracking. It enables our websites to be built in a way so they are seen and found by our clients ideal customers. There are so many digital marketing ideas that could not be executed properly without the help of developers, and vice versa. Having this support and coordination is key to the success of our campaigns.
Core Values and Principles
Below are the core goals and principles that we strive to follow each and every day: 
We strive to be fantastic communicators
We want our clients to understand what we're working on, why we're working on it and the expected results.

We want to provide our clients with constant updates and milestones throughout a project or campaign. 

We want to respond to our clients quickly, whether it be via email, phone or text.

We strive to deliver great results
We want our clients to be proud of the sites we build them while providing an ideal user experience.
We want to grow sales and leads for all of our clients.
We want to provide our clients with design and branding collateral that will portray their company in the most compelling way.
We strive for comfort and true partnership in the Agency-Client relationship
We want our clients to feel like they have a true partner in working with our agency. 

We want our clients to feel our excitement for helping their business grow.

We want our clients to feel that we are always accessible 

We want our clients to fee at ease when asking a question or posing an idea.

We are receptive to feedback and always looking to improve. 

We want to teach our clients the tactics used to drive results.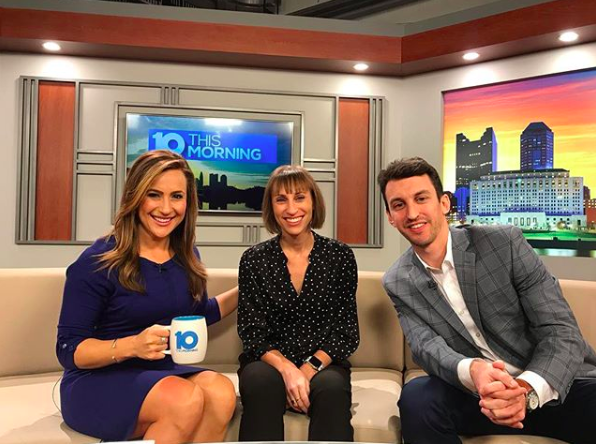 Jason Parks, President of The Media Captain, founded the Agency in 2010. He started the business out of his apartment as a solo shop operation. After acquiring 5 clients, his sister, Stefanie Parks joined the business. This was a truly unique time to start an agency as established businesses were relying on cutting edge talent to grow their digital presence. Jason and Stefanie started working with major corporations like SafeAuto Insurance and McGraw-Hill. These digital tactics implemented, generated new customers and revenue gains that began building our reputation throughout Central Ohio (learn how we helped SafeAuto recover from a Google Penalty).
Jason and Stefanie realized there were two key ways to grow The Media Captain. First was to get referrals by doing exceptional work. The second piece to the puzzle was investing in their own digital marketing. The Media Captain started to grow as word spread about their successful campaigns and more people were finding them online as well. The great internal and external communication and positive results led to more hires, new clients and the next phase of the business.

Based on the photo, you will notice Jason and Stefanie constantly strategizing on their next step, even when they were little kids. While The Media Captain was growing at a fast pace, they felt their eCommerce expertise would elevate the agency to new heights.
And Then eCommerce Happened
In 2015, eCommerce business was on the rise and more businesses were able to rely on this area of expertise as well. Our marketing and development tactics were helping our clients scale beyond expectations (read Darby Creek Client Success Story). We utilized our skill-set to practice what we preach, which was building our own in-house eCommerce brand.
Jason and Stefanie's dad happens to be a dermatologist and sold a few products at his private practice. Jason and Stefanie realized the eCommerce opportunity in that Dr. Parks was licensed to sell higher-grade skincare products that were not accessible over the counter.
With The Media Captain's expertise in marketing and development, we were able to successfully launch DermWarehouse in 2016 (read more about this story).
Remember when we mentioned that The Media Captain, practices what they preach. Well, DermWarehouse now has over 250,000 customers. It's one of the largest dermatologist owned skincare sites in the United States. Stefanie now runs the day-to-day operations of DermWarehouse while Jason does the same for The Media Captain.
What's truly unique about The Media Captain is it leverages data, tactics and ideas from its in-house eCommerce brand, which benefits all of our clients.
Growth of The Media Captain
Since our humble beginnings, a constant is that we love helping businesses grow through digital marketing and development. We get energized in working with our clients and cultivating long-lasting relationships. To date, we provide services for a diverse clientele that ranges from small and medium sized businesses to large sized corporations.
Our core values and principles never change. We believe this has been the biggest catapult of growth. It's The Media Captain difference that brings rave reviews from our clients. As our client base grew,  our skill-set became even more advanced with creative and technical talents. Our cutting edge team delivers the best quality and service, evident daily in the results generated for our customers.
To keep up with the growth, we moved offices (numerous times). We finally found the perfect location in downtown Columbus, which happens to be a mansion of the 45th governor of Ohio (read this story). Our headquarters has charm and personality, warmth and history, which coincides with the values of The Media Captain. We look forward to getting to know you and your business to discuss your business goals in more detail. Whether you'd like to meet at our office or do a Zoom or phone meeting, we'll be eagerly awaiting the conversation. Please contact us to tell us more about your project. We look forward to a smooth sailing experience.