You look at Google Analytics and realize one of your most trafficked pages to your site is an old blog. The publication date was several years ago. You decide to change the publish date to make it look more recent, as you've heard content "freshness" will improve your SEO rankings. Does changing the published date positively impact SEO? Are there risks if you adjust the publish date without significant changes being made to the content?
I will tell you everything you need to know about adjusting publication dates so you have clarity on this popular question while sleeping well at night, knowing you're in Google's good graces.
General Rule Of Thumb For Changing The Publish Date
Don't adjust the publication date unless you write something new or change something significantly [source]. Google's Search Advocate, John Mueller, went on record to say as much. Mueller is one of the key voices regarding algorithm updates and best practices.

Risks of Trying To Outsmart Google
Google knows when a URL was discovered, when the content on the page first appeared, and when it was changed [source].
If a company tries to manipulate the date of an article's publication, this technique does not help the page rank higher [source].
If Google suspects a website violated its policies or uses "black-hat" SEO tactics, it may issue a penalty. Google hands out penalties manually as well as algorithmically. Changing the publication date to rank better on Google could put your site at risk.
Google's sitemap guide states that a page's <lastmod> value must be accurately represented.
Benefit Of Adjusting The Publication Date
I don't want to be naive and tell you there's no benefit to having more up-to-date content. There's a reason so many people change the publish date.
Click-Through-Rates (CTR) is an essential SEO metric [source].
When content is more up-to-date, the person searching is likelier to click on a current publication date than an outdated article, increasing CTR.
Because of this, marketers and webmasters feel enticed to adjust the publication date to a more recent date.
Below is an example of a popular blog on our website, 30 Google My Business Stats. The publish date is important for this blog as the searcher wants to find up-to-date statistics. If our blog had been published several years prior, more people would likely click on other blogs with more up-to-date statistics. At the core, this is why many people adjust the publish date, to maintain relevancy.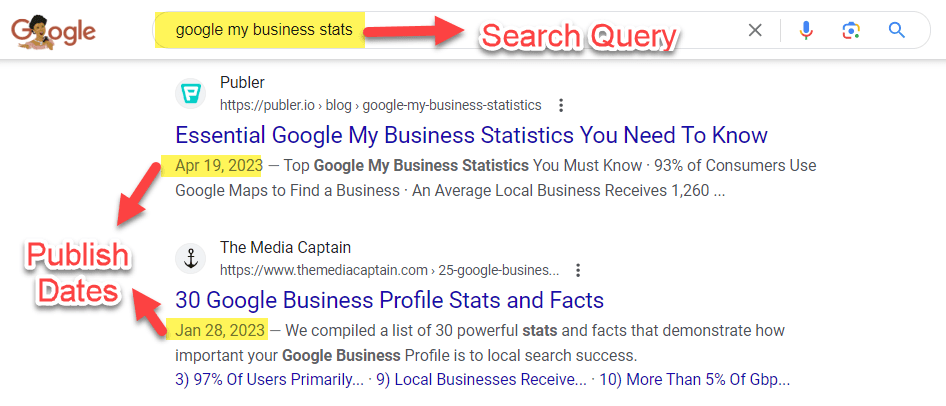 When To Adjust The Publish Date
There are certainly times when the published date should be legitimately changed. For example, I originally wrote this article in 2020. In 2023, I realized the original blog had poor readability and was hard to follow. A high bounce rate within Google Analytics backed this up. Because of this, I gutted the original blog and completely rewrote this, prompting me to change the publish date. Below is when you can legitimately change the publish date:
Old articles need to be updated with more up-to-date information.
Corrections are made to old stories.
The content is thin and needs to be enhanced.
Content is no longer relevant and needs to be enhanced to improve the user experience.
Remember, changing one statistic in an article would not justify adjusting the publish date. Per Google's John Mueller, only adjust the date when a significant change is made.
Leveraging WP Last Modified
WordPress has an amazing plugin, WP Last Modified. This solution removes the guesswork of updating or changing the published date.
WP Last Modified:

Shows the original publish date and when adjustments were made.
Automatically insert the last modified or updated info on your WordPress posts.
Inserts 'dateModified' schema markup to your WordPress posts automatically.

Below is an example that shows the original publish date and the last modified date beneath it.
Note: If you need help installing this plugin or would like to customize the plugin for your website, contact The Media Captain.
In Closing
You are much more likely to see a jump in keyword rankings based on the enhancements made to an old article versus simply changing the published date.
You are putting your website at risk of a Google Penalty if you change the publish date without significantly enhancing the article.
WP Last Modified is a great plugin where you can keep the original publish date while showcasing to readers and Google when the last changes were made.