About the Owner, Jason Parks
Jason Parks started The Media Captain in 2010. He's grown TMC into one of the largest digital agency's in Ohio over the past decade.
The Media Captain has worked with hundreds of small, medium and enterprise clients on digital marketing and development projects.
The Columbus Based Digital Marketing Agency has received numerous accolades. TMC was named a Top 1% Agency in the U.S. by UpCity in 2019 and 2020. They also won the "Best PPC Campaign," which was a national award from DashThis. They were also the recipient of the Top 10 Social Media Marketing Agencies in Ohio. 
---
---
FAMILY BIZ
In addition to founding The Media Captain, Jason is also the Co-Founder of DermWarehouse, one of the largest dermatologist backed skincare and beauty sites in the country. Jason and his sister Stefanie launched DermWarehouse in 2016 [learn more about the DW story].
Their dad, a dermatologist in Columbus, had sold ten products at his skincare practice for many years. The brother and sister duo scaled the operation so the products could be sold throughout the country via eCommerce. DermWarehouse now sells thousands of products from hundreds of brands to over 250,000 customers.
---
---
IN THE NEWS 
Jason was a VIP contributor for Entreprenuer.com for SEO and Digital Marketing content. He's been the first to detect major algorithm updates from Google and has been quoted in Search Engine Roundtable for such discoveries. His digital marketing work has been featured in the New York Times and Search Engine Watch. You can view all of Jason's digital marketing contributions on the "Featured On" page.
---
ENTREPRENEURIAL SPIRIT
Jason is also the founder of Entrepreneurs of Columbus, an online publication which features local Columbus business owners. Their family also owns and operates Park Perfection, a private label skincare company.
Jason's entrepreneurial spirit and business background provides him and his team with a unique perspective for the clients they work with. They've deployed the development and digital marketing campaigns and tactics for their own businesses among many others, providing them with invaluable insight.
---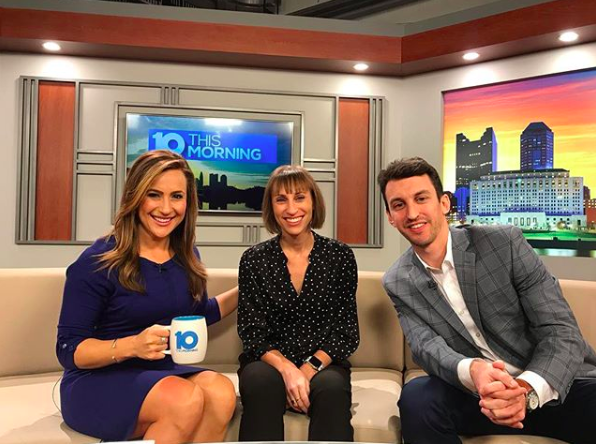 Jason and Stefanie on 10TV with Karina Nova discussing Digital Marketing!
---
THE BEGINNING
The Media Captain comes from humble beginnings. In 2010, Jason realized brands were in need of outside help to set-up and manage their social media marketing. He and his sister managed the social media marketing for several brands immediately after college. The Media Captain headquarters was Jason's shoddy apartment in Thurber Village.  One of the brands Jason was working with happened to be one of the largest car insurance companies in the country. What started out as social media work quickly turned into SEO assistance and a multi-million dollar revenue recovery.
Jason realized the SEO agency the car insurance company was utilizing out of Boston was manipulating rankings on Google by building low quality backlinks. Eventually, this insurance company was penalized by Google and Jason was responsible for spearheading the recovery. [Listen to the podcast of the Google Penalty Recovery Story]. After spending the better part of a year disavowing over 2 million backlinks, Jason was officially an SEO expert and understood Google's algorithm inside out.
---
AGENCY LIFE
The Media Captain has worked with hundreds of brands across all verticals. They've been named a Top 1% Agency in the U.S. by UpCity back-to-back years in 2019 and 2020. They won the "Best PPC Campaign," which was awarded by DashThis. 
What Jason's most proud of is the great team in-place at TMC. Whether you need a custom website or a WordPress site, Media Captain has the resources to confidently take on the project. If you need content enhancements to a site, there are associates with journalism backgrounds qualified for the task. If you need SEO or SEM support, Media Captain has certified Google Analytics and Google Ads professionals.
---
The Media Captain worked with Columbus Crew SC on a Digital Marketing Campaign!
---
PERSONAL LIFE

Jason needs at least 3-4 cups of coffee per day to function properly. He's a huge sports fan with his favorite teams being the New York Giants and Columbus Blue Jackets. There's never a hockey conversation Jason will shy away from. In his spare time, Jason enjoys playing tennis and going on runs. He loves Columbus and feels very fortunate his entire family is in such close proximity!